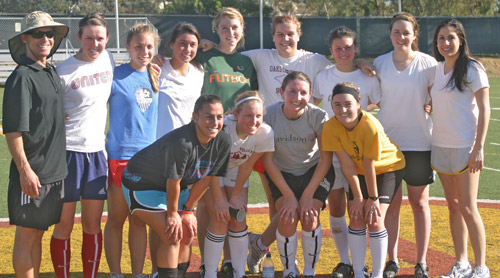 I had the privilege of celebrating another fantastic season with the brave and mighty women's soccer team at Francis Parker High School on Wednesday evening. Although we were the defending CIF Champions, our thin number of returners and our youthfulness made early season predictions a bit weak.
Someone forgot to tell the girls. 2nd in the league, 1 win away from the CIF finals and a number big time schools still wondering what train hit them.
So wednesday we broke bread with all the other winter sports teams and later celebrated as a team/family. Awards, recognition, thanks and killer highlight video.
It took every bit of energy I had to make across town to our celebration as I was on my 3rd 14 hour day and my body was severely run down. But as always with worthwhile things, upon arrival, the energy and goodness of the evening boosted my tired body and energized my spirits. Seeing each girl step up and receive their deserved recognition however big or small was priceless. I preach determination, no limits, over achieving they lived it, I needed to honor it.
Remembering the injuries, the hits, the hot practices, the cold practices all really important as I watched this young, almost championship team receive their earned recognition. It's important to recognize and reward a job well done, especially for people that are still trying to figure out who they are and what they are about.
I had a few very special conversations that evening that I will cherish forever, so glad I didn't "quit on the one yard line" .
Enjoy your friday, finish strong…
Coach Cris
Small consistent change, over a significant period of time, leads to Monumental Results