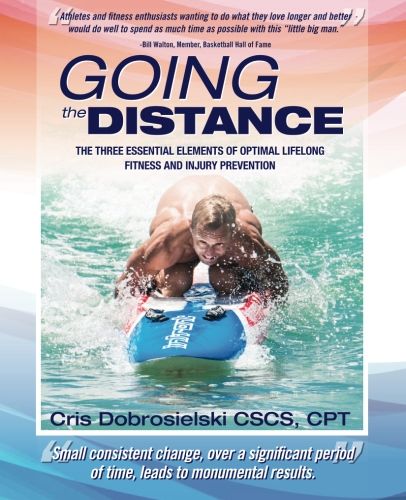 Hey all, my book, Going the Distance is now available on Amazon and http://goingthedistancebook.com
I am proud of the spirit and the science as well for the contributions of several world class physicians, hall of fame athletes and  some of the brightest PTs and OTs in the US.
At the heart of the book is very specific instruction on Injury prevention and performance improvement, that I have been living for the past 20 plus years.
My message of incremental change, over time to experience lifelong results fills the pages.
http://www.amazon.com/Going-Distance-Essential-Elements-Prevention/dp/1481178172/ref=sr_1_1?s=books&ie=UTF8&qid=1363469161&sr=1-1&keywords=cris+dobrosielski
The e-book will be out by the end of the month. Stay tuned.
Train smart, have fun and Neve Give-up,
Coach Cris