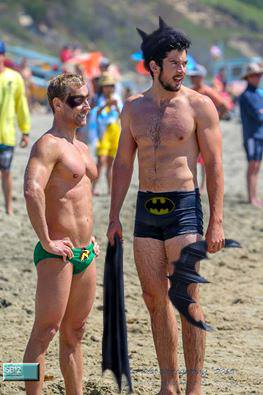 Early morning OB Guard tower (could easily have been Mission Beach or La Jolla) its almost August, an "old guy" or two running around with clip boards and stop watches and bunch of strapping young people nervously preparing for some sort of athletic show down can only mean one thing…Relays in SD!
After greeting Mousey (83 year old former lifeguard) and few of the other parking lot locals, I carried my 10'6″ down for a shake out before my own adventure tomorrow at Huntington Beach (California Surf Lifesaving Regional Championships). Along the way I watched some guys take off in 1/2 mile sand time trial and male and female swimmers charge the fun little sets trying to earn one of the coveted swim spots. I was immediately taken back to scores of similar mornings like this one in the early and mid 90's when I was doing the same thing and man was it was fun. I thought of all the good souls that entered my life because of lifeguarding and competing and how the relays were about so much more than going fast and winning mugs.
The sweetest highlight from this serendipitous touch stone came while I was sitting on the outside waiting to pluck one of the tasty little bumps, I watched one of my young friends/teammates/students lead the pack of paddle boarders out through some decent surf to the apex buoy. I had watched that young champion hone is paddle skills day after day last summer as training partners.
He didn't come home quite as strong… (would have, if he was still training with me) but he did the important thing, took it out to win and…would been first to save a life had it been a rescue and…. maybe he'll be the one way guy! I was very proud to watch Garren hammer his peers, knowing his paddle not only earned him a prestigious spot on the team but also that he had earned himself a job as San Diego Lifeguard and was building friendships and perhaps a career that will know doubt last a life time.
It was a good morning, I am so thankful for choices I have made and the people I have had the privilege of connecting with that have lead me to exactly this point in my life…
Do what you love and love what you do and you'll find yourself in the right spot more often than not.
Coach Cris