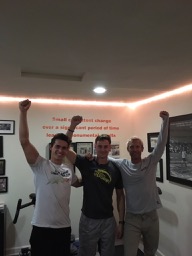 I am proud to officially welcome 2 new young champions to Team Monumental's high performance group. These boys paddle for The San Diego Canoe and Kayack Team, another local paddle group we are proud to support and call family.
Nate n Jesse have olympic dreams, puritan work ethics and enthusiasm that makes you want to be around them.
Blending some Going the Distance goodness (mobility/stability/recovery) with their 2 a day performance training sessions at SDCKT definitively moves the chains.
Let's enjoy the process amigos.
Friendship, strength and honor,
Coach Cris