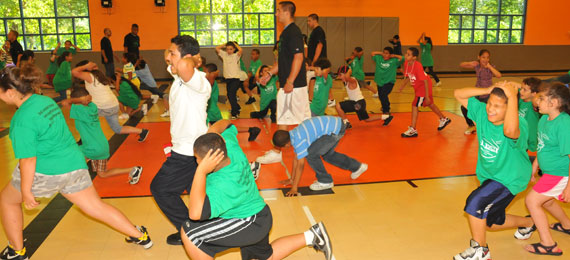 Fit Kids™ Workshops are learning by doing events designed to be educational, motivational and fun! Rather than presenting fitness as a chore that kids should do, we introduce unique drills and exercises that feel more like playtime than working out. Cris's genuine love of sport, movement, and life has positively influenced the lives and attitudes of thousands of kids all across the country.
Most workshops have a particular topic, like:
The pillars of strength and conditioning
Speed training for sports
Saying yes to healthy living
Regardless of the particular focus, each clinic reinforces the importance, value, and benefits of staying active, eating like a champion, and accomplishing one's goals by making small proximal steps in that direction. The importance of being a student first and an athlete second, as well as taking personal responsibility for one's health, are emphasized in every workshop.
Cris has worked extensively with the following organizations:
Campfire Boys and Girls of San Diego
Encinitas and Solana Beach School District
City of San Diego Junior Lifeguard Program
Boys and Girls Club of Lawrence, MA
Good Shepherd School
La Jolla Country Day School
San Diego Canoe and Kayak Olympic Development Team
Francis Parker Women's Soccer Program
If you are interested in bringing a Fit Kids™ Workshop to your school or team, we would be honored to create a program that supports your organization's goals.
Video
Five Pillars of Lifelong Fitness Applies to Kids Too
Check out Cris's Goals for an SD Fit Kids™ Workshop
Click here to learn more about Fit Kids™ Workshops.