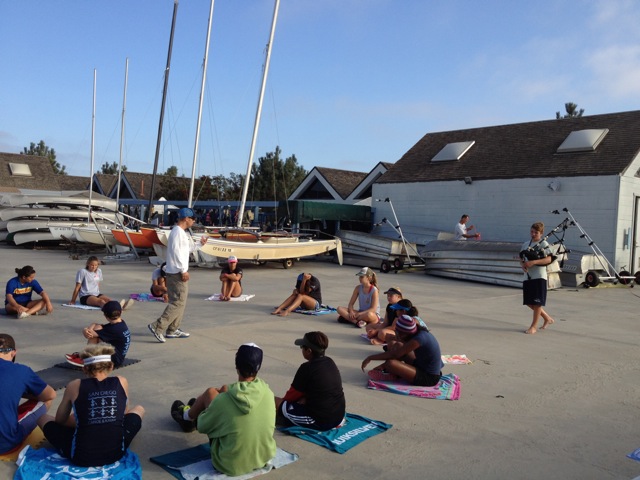 For the past 3 months I have had the privilege of putting the finishing touches on the strength and condtioning component for many of the members of team SDCKT. Four days from today our athletes will arive at the starting line in Seattle to demonstrate their preparation, will and their love of sport.
We have spent scores early mornings hours over the last 11 months stretching our limits on the soft sand sand, up and down stairs and  in the weight room. The goal: to improve our ability to generate force with less effort, which translates into more efficient and explosive  padding.  We have developed our Champion's mind, improving our ability to focus, and finish strong in the face of adversity and pain.
We have studied the the ways of great teams and individuals to identify truths that can assist us in our pursuits, knowing that our studies are only guides and that in "the moment" it will be our own wisdom and will that will carry the day.  We have rehearsed over and over and over again, attemtping to "practice perfectly", while always acknowledging our best effort and even the smallest of improvements.  We have learned how to relax and we have learned when to get fired up. We have learned where to find the hundredths of a second that could make the difference in winning a national championship
There is time to rest, cruise, recover, and a time to glide in life but events that require our full attention, focus and that lend themselves to maximum effort and to long term commitment keep us truly ALIVE.
It gives me great pleasure as a coach to see our athletes engaged in ping pong, school government, guitar, travel, song as well as kayaking.  These things serve just as well as vehicles of joy, growth, fun and challenge.
Growing, dreaming, reaching, expanding, putting it on the line are not things just for athletes or those slight in years.  Each of us, if we are to stay truley alive must keep stretching and expanding.
Whether starting with a new goal like walking for 20 minutes each morning, completing a 5k or pulling out your paint brush from the attic and making art again, I strongly suggest you identify with something you love or something you miss and get started one step at time.
As my advisor HDT said,
" if one advances confidently in the direction of his dreams, and endeavors to live the life which he has imagined, he will meet with a success unexpected in common hours."
I'm sure of it.
Make it a good week,
Coach Cris